Coach Neal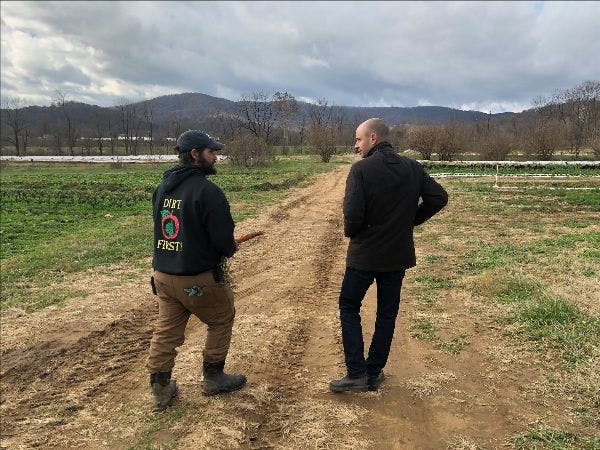 Some of you know that I used to work for the Department of Commerce before I began my career in hospitality. Sitting at my desk, looking out over the ellipse, I dreamnt of a restaurant that linked the farm and the table, made up of a couple dozen like-minded people who were dedicated to serving a community. It has been twenty years since that day-dreaming took place and at this point I am the closest I have ever been to realizing that dream.

One year ago, COVID threatened the survival of restaurants everywhere. In our various responses to the many challenges that these past twelve months brought, one remarkable discovery was that our mission was viable regardless of the circumstances. We were sustained by the relationships we have with farmers and artisans which allowed us to nourish you, our patrons. In so doing, connections were strengthened between all of us. As a result, Field & Main is a much better restaurant than before. Better because we are more resolute in the mission to use food and drink to build connections that foster community.

At first, the need for rapid and consistent change was challenging and at points disconcerting, but then I started to realize the freedom that came with such a dynamic environment. Each challenge brought a new opportunity to further align with our values and mission. A great deal has changed at Field & Main and I could not be more excited about those changes.

One such change was that I restructured the kitchen. After assuming the position of Chef, I wanted to break from tradition. Most of the kitchens in the world borrow from the French brigade system, which was adopted from a military hierarchical structure. I have studied and worked within this system and appreciate how it functions, but I was in search of something that did not rely as heavily on one person solely dictating the menu and then funneling it down to subordinates. I did not want to be the General with soldiers beneath me.

Instead, I wanted to create a team. I think of it like basketball. All players on the court need to be able to shoot, rebound, pass and defend, not just a few of them. My thinking was simple: the more skilled members of the Culinary Team we have, the better the cuisine will be. You see that reflected in our menus now. My role as Chef is to coach these individuals to realize their talents and to share them with you our guests.

I set the game plan by defining a framework within which the team creates and executes. One example of this was when I changed The Feast Tasting Menu to The Present Menu. The Feast was created to dine in a grand fashion with large groups of friends and family. It morphed to become a de facto Chef's tasting menu, but it did not allow us the latitude to creatively share more of what local farmers and artisans provide in the given moment. That is why the Present Menu was created. The Present is a moment in time, which is a gift. Thus, the menu seeks to honor this gift by providing a snapshot of what is uniquely available now.

Another benefit of the Present Menu is the need to be continually creative. Interpreting the same ingredient in myriad ways because it is bountiful - like carrots right now - or celebrating something that has a limited season like sunchokes. The ingredients drive the creative process, allowing us to develop a technique that enhances our tool kit and broadens our craft. This same tool kit is then employed to make dishes on the Dinner, Lunch and To Go menus. The process helps the team get better too. So if you have not had the chance to visit lately, there is much to experience.

When I left the government and headed to culinary school nearly two decades ago, I thought it was to become a Chef, but in truth what I wanted more was to become the Coach of a Restaurant made up of a hospitality and culinary team that ply their craft in service to a community of farmers, artisans and patrons. I wanted to build a team that was nimble enough to respond quickly and effectively to the ever-changing dynamics of the world – held securely in place by a commitment to our singular mission of hospitality through service. Today we are doing just that and I sincerely thank you for the opportunity to do so.