Cultivating Talent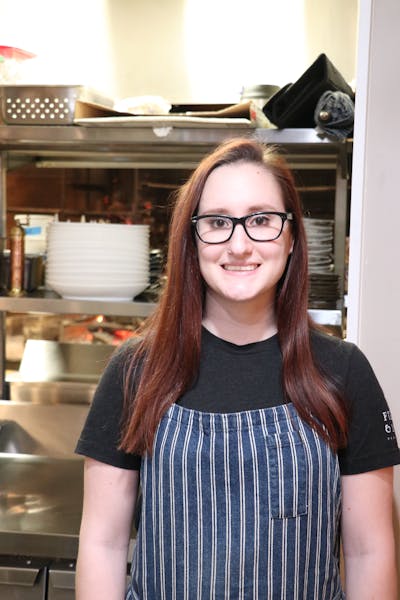 Dear Friends,

Voltaire concluded his great work, Candide, with the phrase, "Il faut cultiver notre jardin", which translates to one must cultivate one's garden. While interpretations of what this means abound, I take it to be a direction, a prescription of action that one should work to develop and grow what is within one's purview.
Field & Main is a garden of sorts. F&M is a place that strives to support and develop talented individuals as they grow in their lives and careers. I would like to share with you two stories that illustrate this.

After nearly 2 years with Field & Main, our pastry chef and consultant Marium Caternolo is departing to advance her business.
In 2017, Cakes by Marium was just launching and needed space to grow. The stone building that housed Riccordino's was an ideal spot. An oven was installed and a walk-in cooler out back.
In exchange, she took on the role of conceiving and producing our desserts. She trained our team on how to produce her creations, and she helped out during service on busy weekends.
With the arrival of Spring, cake orders began to pour in. She was invited to bridal shows and magazine photo shoots in Washington. The time had come to focus solely on Cakes by Marium.
I think it is wonderful that F&M could benefit from her expertise for the time that she was here (that basil ice cream, hearth baked cookie, and flourless chocolate cake to name a few!) and that she was able to grow her business to the point where she can now proceed on her own, cultivating her own garden.
+++

Prior to opening, in the summer of 2016 I was interviewing candidates for all manner of positions. This is when I first met Sabrina Lang and hired her as a member of our support staff. In the intervening two years, Sabrina has served in numerous capacities, but did not find a spot where she wanted to grow.
She left to pursue a career in home health care only to return a few months later with the realization that a different kind of service best suited her. This time however she began working in the kitchen. And this is when she really began to take off.
Sabrina has a natural aptitude for kitchen work. She is calm and collected. She is organized and self-directed. Her versatility is an asset to F&M, which she has demonstrated by already working multiple stations in the kitchen.
Exposed to Marium's desserts and under the tutelage of Chef Anthony, her skills have flourished. She's now creating her own desserts including the Snickerdoodle with banana ice cream and a custom milkshake for a birthday celebration.
Later this month, she and Chef Anthony will attend an intensive pastry program at the Culinary Institute of America in New York.

+++

I had no indication back in 2016 that any of this was possible. Much like the seeds below the soil, there was no visible sign that anything would grow. Yet so much has thanks to efforts made to support the interests and talents of our team. As our patrons, you play an integral role in making this possible.
Your support nourishes this team, creating opportunities for some to start businesses of their own and others to develop a career that draws on their unique talents and abilities.
Thank you for your contribution to this garden. What a marvelous garden it is!
Cheers,
Neal